May Minto
by MARTHA PERKINS of the Haliburton Echo
MAY MINTO has lived within a 10 mile radius of Minden all her life, but thanks to her, hundreds of people have been able to travel to some of the most beautiful places in the Highlands and beyond.
For decades, she hand-crafted 25 canoes a year, cutting the wood, bending it into shape and then fitting it altogether into one of the most graceful modes of transportation ever invented.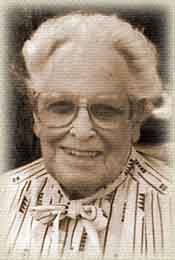 "There's just something about a canoe that's extra nice," the 81-year-old resident of Stanworth Court says, "and I think we had the best looking canoes around."
Even today she remembers how it was done, year after year, canoe after canoe: "First you'd bend then stems, then work on the inside gunwales, the ribs and planking and cover it with canvas and fill it in. You used to steam the stems and the ends of the gunwales because they were oak. the ribs and the planking were cedar.
"You'd let it dry for a month and then put on the outside gunwales, keels, deck ends, seats, thwarts, then sand them good and put three coats of varnish on the inside and a couple of coats of paint on the outside."
She became so good at it, that when her brother Bob sold Minto Marine and she decided to retire, too, the new owner begged her to come back when he realized he'd never be able to build an order of 12 canoes over the winter. She was 66 years old and those canoes were ready by the spring.
Working hard, and working at a man's job, seemed to come naturally to Miss Minto. Whether it was making canoes, constructing new buildings at the University of Toronto Survey Camp on Gull Lake, or becoming a "Rosie the Riveter" during World War II, "I just loved it. I liked it much better than housework. My twin sister Winnie was the opposite; she'd never come outside."
The identical twins were the second and third children - Winnie was 30 minutes older than her twin - born in 1916 to James and Ethel Minto. First came Jimmy and after the twins were Art and Bob (whose twin died in the womb.) Today, May lives in Minden, Bob on Kashagawigamog and Art in Whitby; both Jimmie and Winnie have passed away.
The girls were born when the family was living near South Lake and they moved to Gull Lake when they were four and their father got a job as foreman of construction of the new survey. When the initial construction was completed, he stayed on through the year as caretaker.
"It was a beautiful place," Miss Minto says. "Mom used to do the cooking and then I was 14 and Mom had to go to the hospital with appendicitis, I cooked for 50 men. Dad would get the potatoes and meat ready, and I'd do the rest. In the winter, we'd help cut the wood and ice. Mom and I drew the ice from the lake with horses and sleigh, and my sister put it in place (in the ice house) and stuffed snow into the cracks."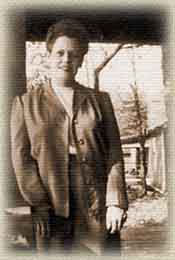 The camp ran for six weeks a summer to train U of T engineering and mining students a few practical tricks about surveying. With all those young men around, Miss Minto laughs when she says "we were too busy to be bothered by them." The students also had trouble being able to tell the twins apart, so they called both of them "Winnie May."
As the camp grew, young May was very much a part of it. "In '53 and '54, I helped build the new teaching building. Me and another worker shingled the whole building, 130 feet long. I just grew up doing a man's work."
What did the men with whom she worked think about it? "I used to be their boss so they either worked with me or they had to go. I was the only one who knew how to build the canoes."
At first, the canoes were built for the survey camp and others in the area - Kilcoo, Gay Venture and Onondaga being just three. But as word of their craftsmanship spread, the orders kept coming in and they decided it was time to really going into business.
"Jimmy was working at it a bit and so was Art, but they both married and moved away and Dad wasn't up to doing it on his own so I took it up," Miss Minto says. "We had a workshop at the university and when we moved to Minden (in 1956 to open Minto Marine where Jug City now stands on Hwy 35), we had a shop there."
Her only break from living in the Highlands came in the early 1940s, when she and Winnie answered the government's call for help at munitions factory. Living at a relative's on Queen Street, May first worked the lathe on the nose cones for anti-tank shells at Massey Ferguson and then went to Victor Aircraft where she was a riveter on the Lancaster bombers. "When Bob reached 18 and went into the army, we had to quit and come home to be with mom and dad, who were all alone," she says.
It gives her pleasure to remember all the things she built with her own hands over the years. (Unfortunately, however, after inhaling cedar dust and smoking for most of her life, she has problems breathing today.) Surrounded by photographs of family and her memory alive with images of the life they shared together, it's with pride that she wears the same name as so many of the canoes she once built.
Addendum by Pam Wedd
Every year, I have one or two visitors to my shop ask me if I have heard of the woman who used to build canoes near Minden. Being a woman canoe builder in a largely male dominated field I was always eager to learn more, but no-one seemed to have any additional information. Then I ran into a Minto canoe owned by a canoe instructor on course when I went in as a guest speaker.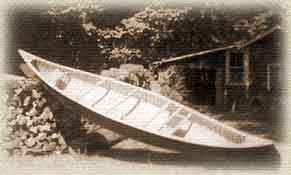 Now I had finally seen one of these canoes but still not much additional information. And then someone sent me Martha Perkin's article from the Haliburton Echo - not only was there a story about May but there she was, still living in Minden.
I called her up and had the pleasure of spending several entertaining hours with her. We chatted about wood and filler and dust masks and steamers and jigs - canoe talk. She built both a 16 foot and 12 foot, with wihite cedar ribs and planking. The hulls were quite flat bottomed, with little rocker, much like the Rice Lake canoes of the day, and had a lovely graceful bend in the sheerline as it approached the ends. The canoes were trimmed out usually in red oak, an easily obtainable local wood, but occassionally had black cherry decks. I was interested to hear that her work schedule was similar to mine - build the hulls and canvas and fill during the winter, and then trim, paint and varnish throughout the spring. Although she remembers using Petite paints, she didn't seem to remember what went into her canoe filler - just like a canoe builder, guarding the secret formula to the end!!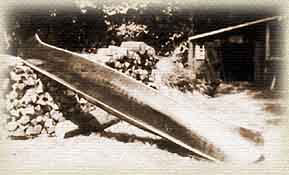 I was happy to hear that her nephew has kept all the equipment, moulds and jigs - another trip for me to look forward to.
May has recently been awarded an honourary membership in the Wooden Canoe Builders' Guild, an association of professional canoe builders dedicated to preserving the craft. I am looking forward to presenting May with the plaque this spring, in recognition of her years of canoe building. It has been a pleasure for me to get to know May, and my only regret is that iI didn't get a chance to spend some time learning from her while she was still busy in her shop.