Fernando Scatozza's 1980 Custom D2 (5 photos)

I recently got another e-mail from one of my past clients... he sent these pix of his 32-year old guitar... Thank-you Fernando!! Fernando wrote:
" It's still good and I love the sound. The fret-board is perfect for my hands. The off-phase switch handle is broken and needs to be replaced. It would be good if you get all the people who play your guitars together ..
I feel that I have the most beautiful guitar in the world. It is really a beauty."
Check out his music, band, & recordings here:
http://www.fernandoscatozza.com/ or
http://www.reverbnation.com/fernandoscatozza or on YouTube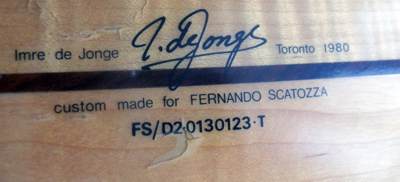 Lucky Fernando... my 13th guitar!